OUR PRODUCT
Enjoy The Grill Thing.
Penn Station has developed a unique product line that demonstrates, in full customer view, the true quality of our products. Our menu features an array of mouth watering grilled submarine sandwiches, fresh-cut fries and hand-squeezed lemonade. All sandwiches are prepared fresh in full view of the customer using delicious hearth-baked bread, USDA steak and the finest meats, cheeses and vegetables. The potatoes are hand selected, fresh-cut and flash-fried in cholesterol-free peanut oil. The lemonade is made from scratch every day using hand-squeezed lemons.
Our franchisees and their crew are happy to serve you and ensure your dining experience meets our high standards for the quality that produces the finest grilled subs and fresh-cut fries around. Come visit a Penn Station® to see why "It's all about good taste".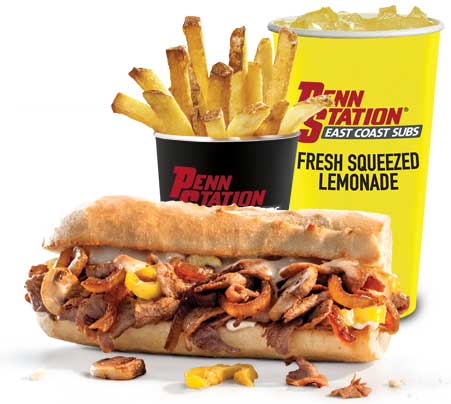 OUR HISTORY
Penn Station's origins can be traced back to Jeff Osterfeld's first venture in 1983 as owner/operator of "Jeffrey's Delicatessen" in the Dayton Mall in Dayton, Ohio. It was here that the roots of the "ownership mentality" began to form for the founder and Chief Executive Officer of Penn Station, Inc. Jeff saw first-hand the impact his presence in the store had on product quality, customer service and sales.
On a trip to Philadelphia, Jeff was particularly attracted by the popularity of the cheesesteak sandwich. This trip prompted an addition to the deli's menu of a variation of the Philadelphia cheesesteak sandwich he had sampled on the south side of Philly. This sandwich became an instant hit with customers.
Jeff took his innovative ideas on quick service dining to downtown Cincinnati where he opened his first Penn Station® Restaurant in 1985. The original menu had four sandwiches and featured the grilled cheesesteak, fresh-cut french fries and hand-squeezed lemonade, with the order prepared directly in front of the customers using the freshest ingredients available. In 1988, Jeff's vision for an upscale, quick -service dining experience revolving around "fresh ingredients and display cooking" was formulated into a franchising concept. This began the evolution into what is now an extraordinarily successful concept that has grown to over 310 restaurants throughout 15 states.